As we already know, Duffy's 'Warwick Avenue' video features the Tesco soul Rachel Stevens leaving London's Warwick Avenue tube station and imme­di­ately bursting into tears.
FICTION: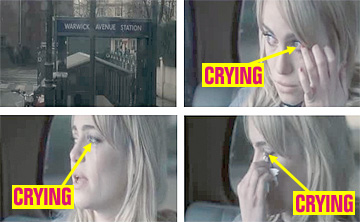 As you can see here Duffy is crying her pretty little face off. It's all very sad. The strong implic­a­tion here (remember we have an impress­ive 2:1 in Media Studies) is that Warwick Avenue is some sort of 'Pavlov's tube station', proximity to which forces human beings to tears.
But what really happens when people leave Warwick Avenue tube?
FACT: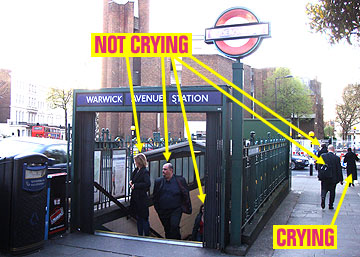 A special Popjustice sur­veil­lance operation reveals, however, that 83% of people leaving Warwick Avenue on an average afternoon are NOT in fact crying. And we strongly suspect that the remaining 17%, picture above, is employed by Duffy's record label to regularly cry in the general Warwick Avenue area in an attempt to keep the lie going.
What could it all mean?