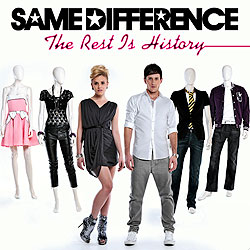 An album we have been 'spinning' rather a lot over the last week or so is Same Difference's 'The Rest Is History'.

We have found 'The Rest Is History' to be the ideal accom­pani­ment to wandering around London. In times gone by people used to listen to music on their head­phones and imagine they were in a music video. These days of course it is 'de rigueur' to imagine onself in a YouTube teaser vid.

Speaking of which, here is one for the Same Difference album. It is not a perfect album but the bits that hit the spot represent all that is good in the world of popular song.

Warning: This YouTube clip contains zero dubstep.

[youtube]OgO0UFj9D54[/youtube]

The bit at 0:47: amazing.
The bit at 2:04: amazing.
The bit at 6:43: amazing.
The bit at 5:12: amazing.

Can you pre-order the album on Amazon? Yes you can.