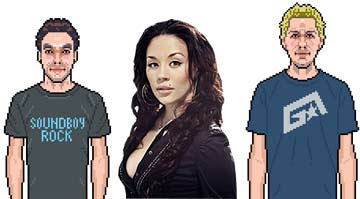 What are you doing on Saturday night?
If you'd like to go and see Groove Armada and Mutya Buena each doing a live set and then perhaps doing a 'surprise' song together at the ICA (ooh — con­tem­por­ary and artistic) we have five pairs of tickets, or perhaps four pairs if one of the pairs mys­ter­i­ously falls into the Popjustice wallet, to give away.
To win a pair of tickets, email us on [email protected] and tell us which popstrel you think Groove Armada should work with next.
We need your entry by midday tomorrow (Friday) and anybody found entering this and the Luciana com­pet­i­tion (for a thing which is also on Saturday night) will have to answer some very difficult questions.