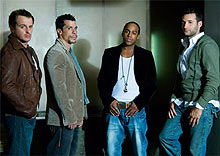 Have you been watching Totally Boyband? It has, as we 'riskily' predicted a few months ago, been abso­lutely amazing, apart from the bit with that twat at the press conference.
Things we have liked:
1.
The Latch's house, and his horrible taste in ornaments.
2. Danny's inability to have a dis­cus­sion with someone without accusing them of not listening and informing them that they are not listening by talking over them when they are trying to talk.
3. Jimmy's obvious proximity to a nervous breakdown / killing spree.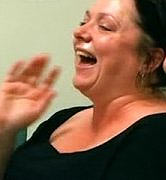 The thing we have mostly liked is Roseann McBride at the band's label, Concept. Roseann gives a voice to anyone who has ever had to work with an idiot popstar and is the star of this series just as she was the star of Totally Scott-Lee.
So far in the series her greatest hits include calling Jonathan Shalit a cunt and relishing every minor disaster and setback with a glee that has quickly estab­lished her as the pop industry's answer to Blanche Hunt.
It is sometimes easy to forget that Roseann is not a sitcom character but actually a real person in the real world. That is how amazing she is. She should get her own series.
THIS IS THE COMPETITION BIT
You can SPEND AN EVENING IN THE SAME ROOM AS ROSEANN — because Upper Street are playing a gig tomorrow night at the Bedford in Balham and we have five pairs of tickets to give away.
To win the chance to spend an evening in the company of Roseann — and probably watch a bit of the gig as well — just send an email to [email protected] and tell us how many albums the members of Upper Street have col­lect­ively sold. You may or may not find the answer at the band's official site.
Good luck!
NB: We have phoned Concept and asked for a nice picture of Roseann. If they send one through we will replace the one above.