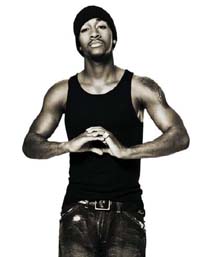 Too few songs are sung about household appli­ances and that is fact. An ice-box is the same as a freezer in that it is as freezer except it is what you keep your peas in if you live in America.
Which explains what pre­vi­ously unre­mark­able singer Omarion is going on about in his new single which is called 'Ice Box'.
Here is what you need to know about it:
1. It is brilliant. Really brilliant.
2. It is produced by Timbaland, which explains the familiar voice in the back­ground banging on about being cold through­out the whole thing. Perhaps he is trapped in Omarion's freezer. A little like being trapped in R Kelly's closet, but nippier.
3. That dreadful woman from Pussycat Dolls isn't on it which, these days, is a bloody miracle.
4. Did we mention that it was literally quite good?
5. You can hear it on his MySpace page, which is right here.