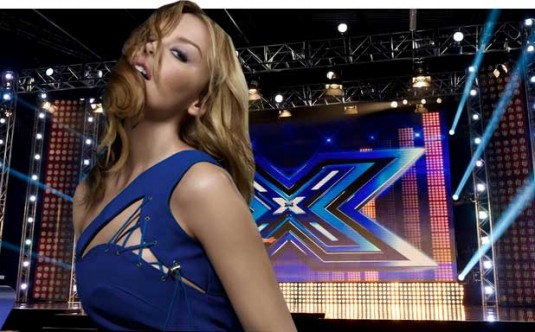 There is some sort-of-nonsense floating around today about Kylie (Minogue) being 'mooted' as an X Factor judge when the show returns next year.
Here is the news.
1. Yes Kylie must join the X Factor judging panel next year. She talked a bit about the idea of judging on a show like this when we spoke to her recently. The subtext seemed to be "make me an offer I can't refuse". Also, as she also mentioned in the interview, she's keen to make further amazing pop music, but we think her profile probably needs a bit of a kick up the arse or she'll end up with another campaign like 'Aphrodite', which started well but tailed off a bit. And we don't think Kylie is quite ready to disappear into a Radio 2‑dependent neth­er­world quite yet. A role on the X Factor judging panel offers no guarantee of big sales, of course, but you'd expect that Kylie would connect with the audience better than — plucking a name out of the air here — Kelly Rowland.
2. So yes, Kylie must join the panel, but Dannii must also return, for sister-on-sister com­pet­it­ive vote-off action.
3. And Sharon Osbourne should return as well, to ensure that there are def­in­itely some arguments.
4. Let's be honest, Simon Cowell needs to come back too. He knows this as much as we all do. He probably knew it long before we did, in fact. He probably knew the UK show would suffer, and that he would return after a year or two to sort things out, before he even announced that he wouldn't be doing it any more. But he also knew UK X Factor could just about cope for a couple of years without him, and that US X Factor des­per­ately needed him if it was ever to succeed. Basically he needs to be back next year.
5. Louis should stay where he is.
6. Actually Scherzinger should stay, too.
7. Yes we know this means there would be six people on the panel but this fits in quite well with The X Factor's "if it's not working throw more stuff at it" 'ideology' so it will be fine.
8. With six judges, there will need to be six cat­egor­ies. We'd say: Overs, Solo boys, Solo girls, Boybands, Girlbands, and 'Etc'. Naturally Louis should get the 'Etc' category, into which all the jokers and loons and mixed groups will be chucked. Kylie and Dannii should get the boybands and girlbands respectively.
9. If either Kylie or Dannii won't commit to a full series, and if six judges is too many, we'd suggest intro­du­cing a judge called MINOGUE, who could be Kylie one week, Dannii the next, as diaries permit etc. They could even switch Minogues during ad breaks on the live shows. No reference would be made to the fact that the Minogue had changed.
10. Right, we're glad that's all agreed. Kylie, Dannii, Sharon et al, we'll see you at the auditions next year.