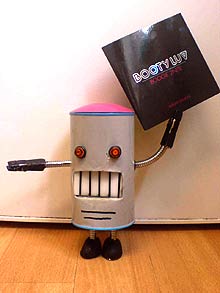 There are moments in history so earth-shat­ter­ing and of such deep sig­ni­fic­ance that their impact on the col­lect­ive con­scious­ness of the human race is undeni­able. The first Moon landing. The JFK assas­sin­a­tion. The moment we first heard about the tragic death of The Lovely Lady Diana Princess Of Wales.
Whatever you are doing now and wherever you are, you will all remember this exact time and place for the rest of your lives.
You will have this memory scorched into your brain for all eternity because it is now you will find out that…
THE BOOTY LUV ALBUM SAMPLER IS COMPLETELY AMAZING.

1. 'Don't Mess With My Man'
Amazing.
2. 'Some Kinda Rush'
A‑M-A-Z-I-N‑G!!!!

3. 'Boogie 2Nite'
A!
M!
A!
Z!
I!
N!
G!
4. 'Shine'
AM
AZ
ING

5. 'Who's That Girl'
A.….….….….….….….….….….….….….….….….….….….….….….…..mazing.
6. A Little Bit
This one's a bit ropey actually.
So there you go. 'Some Kinda Rush' is, par­tic­u­larly, so com­pletely amazing that it almost goes beyond the dic­tion­ary defin­i­tion of 'amazing' and hurls itself into the realms of being somehow — we know this is hard to imagine, but stick with ut — BETTER THAN AMAZING.