Call us old fashioned, but these days if we don't see something like this stuck up outside a pop concert…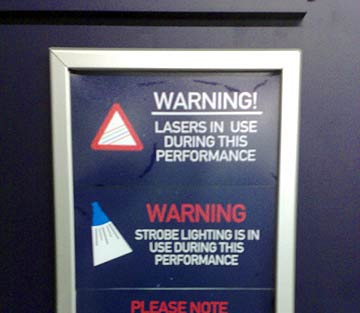 We turn around and walk away. It might as well say 'WARNING! This per­form­ance will be literally quite good' or 'WARNING! This is not a Kooks gig'. Anyway, the concert involving strobes and lasers we are here to discuss today is Saturday's one by the Scissor Sisters. It was our first journey to the O2 Arena and we have to say that as a venue the O2 Arena is FUCKING BRILLIANT. Unlike other arenas it is actually pleasant to get to, be at and then get a tube home from. So well done O2.
The band were great, too. Their stage set had two big runways going into the audience, each being one of the legs from the Scissor Sisters logo. Here is a picture if you don't believe us.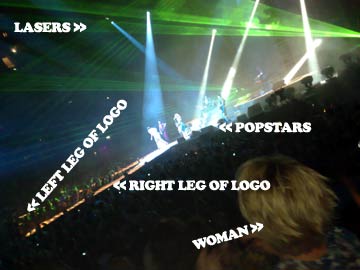 The show was all very exciting and funny and occa­sion­ally A Little Bit Gay and it made us remember that there is more to the Scissor Sisters than hanging out with Elton and thanking Bono in sleevenotes.
READERS! Are you the 'woman' in the picture above? Perhaps you are the 'man' and are deeply offended! If you are the woman or man, send a recent pho­to­graph of yourself from the rear and win one of the several hundred pro­mo­tional skipping ropes we seem to have accu­mu­lated at Popjustice HQ!