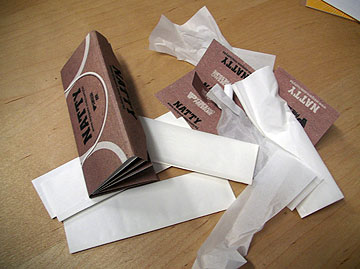 Well we've had the Frisbees (or, more accur­ately, we've had the 'generic throwable discs'), and now we've got Rizlas (or 'unbranded cigarette papers').
It is now possible to start building up a complex psy­cho­lo­gical profile of how Natty's marketing team perceive the average Natty fan.
1. The average Natty fan is aware that it is the summer, and that summer is the ideal time to enjoy the 'cool summer vibes' of Natty's new single 'July'.
2. The Natty fan will be the sort of person who enjoys to play with Frisbees (and generic throwable discs) in the above-mentioned summer.
3. These people also like to get off their box on the killer mind­bend­ing falling asleep drug 'weed'.
4. OR they like sitting around the kitchen table with friends sticking Rizlas (or unbranded cigarette papers) to their foreheads.
5. Points 3 and 4 are not mutually exclusive and Point 3 may in fact lead to Point 4.
It will be inter­est­ing to see what the next part of this complex jigsaw will be. There is a clear pattern forming, however, and we expect the next Natty promo item to either be a Biro (or generic ballpoint pen) or a Hoover (or vacuum cleaner made by another leading brand). Watch this space.