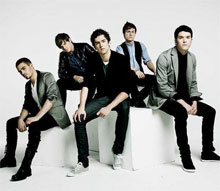 Do you remember we wrote about Avenue the other week?
The general gist was that after having been on X Factor and gone through a bit of a lineup change they signed with Sugababes' man­age­ment and then to Island Records. The clip of their debut single, 'Last Goodbye', was good in a Max Martin knockoff sort of way and it was all shaping up to be better than the last few major label boyband launches.
Anyway, the video's online now. It is without doubt one of the worst major label videos you will see in 2008 and it throws a par­tic­u­larly unflat­ter­ing light on the song itself.
The second single is really properly good.