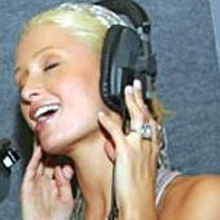 Paris Hilton has been working on this album since she was about eight months old, but you will be pleased to hear that it is now FINISHED and 'IN THE CAN' and listen­able-to by people.
We know this because we were invited to listen to the album and now we will tell you what we think about it.
Sadly, there are no photos of chan­deliers to illus­trate this historic event, so if you are here for that please skip ahead.
1. 'Stars Are Blind'
Plays hide the sausage with UB40's 'Kingston Town'. Accidentally brilliant.

2. 'Screwed'
What's this? It's 'Screwed'. And 'Screwed' has been 'free' on the internet for about 5 years.

3. 'I Want You'
Hello hip-hop. Are you hiding Paris Hilton? She must be under­neath the bassline because we can't hear much of Paris' lovely 'voice' at all.

4. 'Nothing In This World'
What's that poking out from behind Kelly Clarkson's enormous face? It's a pair of shoes. It's a pair of very expensive shoes. Some might say they were 'hot'. This sounds not entirely unlike 'Since U Been Gone'. Like most things these days.

5. 'Jealousy'
A little bit sexy, and a little bit sultry. A little bit like something you might hear in a hotel lobby. A helpful reminder that while Paris may not be sexy and she may not be sultry, she does know about hotels.

6. 'Fighting Over Me'
Remember when Victoria Beckham went 'street'? This is like that. Lightweight hip-hop with urban 'heavy­weights' Jadakiss and Fat Joe.

7. 'Turn It Up'
Here we discover that Paris can whistle. She can also sing like J‑Lo, ie not all that well.

8. 'Not Leaving Without You'
Paris gets in the lift with the Sugababes and annoys them by pressing every button when she is only going down one floor, which is to say that in this pop tune Paris has a go at re-imagining 'Hole In The Head'. Do you know, viewers, this album is almost making us think that someone somewhere has been listening to various suc­cess­ful and brilliant pop records and trying to copy them.

9. 'Turn You On'
Thematically, not a million miles from 'Turn It Up'. Paris is probably quite the nuisance around levers and switches. She is, vocally, a bit distant during this urban 'club' 'banger', probably because she wasn't allowed near the equipment very often for fear of meddling. Or perhaps because she wasn't allowed near the vocal booth.

10. 'Heartbeat'
The Ballad, but more along the lines of Gwen's 'Cool' than 'My Heart Will Go On'. By 'more along the lines', we mean that the Paris Express is on the exact same piece of train­track, shunting Gwen from behind and blasting a horn.

11. 'Are You With It'
Paris does crunk, having pre­sum­ably found this in Ciara's bins.

12. 'Do You Think I Am Sexy?'
Oddly enough, Paris is best friends with Rod Stewart's daughter. 'We wonder' if she will be in the video. This one is rubbish, but then so was the original and so was the N‑Trance version. What chance did Paris stand? None.
So that is that. That is the Paris Hilton album. Not as good as 'Stars Are Blind' but, at the same time, not a complete waste of everyone's time and effort either.
Thank you, Paris.