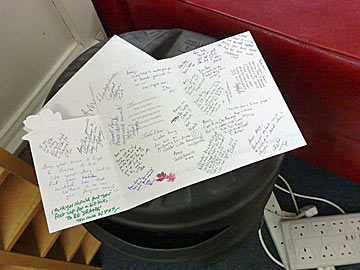 It's a get well soon card for Amy Winehouse, signed last week by judges at the Popjustice £20 Music Prize night. Messages include:
"I think you should put your feet up for a bit, love, to be 'Frank'."
"You're a good girl. Best of luck with that third album."
"Get yourself together missy, your disco needs you."
"Get rid of Blake he's clearly a twat."
"PLEASE DON'T DO ANY MORE SMACK!!!"
"Lightweight."
"Your hair is huge and fierce."
We will send the card off later today. GET WELL SOON AMY.