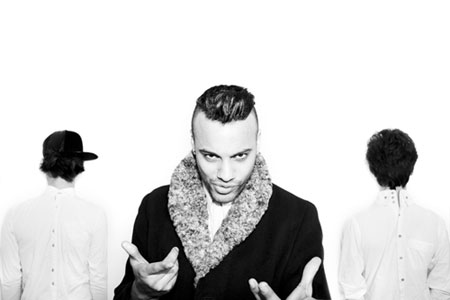 MONSTA are a new band featuring some people whose music we've enjoyed in the past. The man in the middle you will recognise as going by the name of Bryn, while the chaps on either side will answer to a shriek of 'Rocky and Rufio'.
MONSTA make pop music that sounds unusual and soulful and a bit heavy (without any of that self-conscious dubstep heaviness-by-numbers nonsense people des­per­ately throw together in an attempt to get a sniff of a Fearne Cotton radio play) and very inter­est­ing indeed. The band have been putting some tunes on Soundcloud recently. Those tunes include today's Song Of The Day 'Romeo' , as well as 'Destroya'…
…and 'Where Did I Go'…
…and this rather splendid cover of 'Heard It Through The Grapevine'.
There's lots to like about all this, so we asked the band to send us ten key points to summarise what it's all about. Looking back on it we should have asked them some stuff then run the best bits and billed is as Prime MONSTA Questions but we didn't do that so you'll just have to live with it. Here are the points they sent over along with our thoughts.
1. "We are a brand new project who spell our name in an anim­al­istic way."
We are not sure if it's the 'a' or the SHOUTING that makes MONSTA anim­al­istic, but we do like MONSTA as a name. It makes us think of, well, monsters. And you cannot go wrong with a monster. Paws up etc etc etczzzz
2. "We were brought together by a mutual adoration of the work of Britney Spears and Otis Redding (sep­ar­ately, not in a dueting sense)."
We suppose if Otis and Britney did duet it would be on a song called 'Sitting On The Dock Of The Bay-beh'.
3. "There are 3 of us."
That is correct.
4. "The combined amount of Welsh people between us is 1.75."
We don't know how they've worked that one out. Perhaps one is Proper Welsh, and another is half Welsh, and the third has one Welsh grand­par­ent. However it works, they need to be careful about this. VERY CAREFUL INDEED. Don't flirt with Welshness.
5. "One of us sings the songs and two of us produce them."
The one in the middle in the picture above is the singer. That's a week one lesson from popstar college. Singer in the middle, others go somewhere else.
6. "Our songs consist exclus­ively of exciting melodies, notes and noises."
If we had to put 'melodies', 'notes' and 'noises' in order of import­ance in a pop song, we would say 'noises', 'melodies', 'notes' for the initial rush, with 'noises' slowly des­cend­ing the list over a period of several weeks.
7. "We are not inter­ested in the genre 'easy listening'."
Bad move. Some easy listening is amazing. Yes we know that some people say easy listening is a gateway genre to jazz and you do need to be careful you don't overdo it, but easy listening is not bad in small doses. In fact, doctors are now sug­gest­ing that a small amount of easy listening every day might actually be good for you. So we are afraid MONSTA have made a grave error here. 3/10.
8. "We are all allergic to peni­cil­lin. However, we do not wear warning bracelets."
That's what we need more of in pop. Musicians who aren't afraid to dice with danger. Impressive work.

9. "We live in the city of London."
What do you want, a medal?
10. "From this day forth we shall be giving away free MONSTA material as often as possible from our blog so people are able to shake a leg to us wherever and whenever."
Ah, 'finish on a plug'. That's week two at pop college. We are glad the lessons sank in.
» MONSTA on Soundcloud

» MONSTA on YouTube
» MONSTA on Tumblr