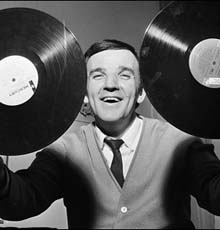 With a few excep­tions (Unklejam, Ali Love etc etc) getting your record on the Radio One playlist means that you can put your feet up for a bit because your Top Forty single is in the bag.
So let's see who Whiley and co have decided they would like to play this week.

Avril Lavigne — 'Hot'
It really doesn't matter if you have heard this or not. Take a wild guess at what this might sound like and you will almost certainly be spot on.

Oasis — 'Lord, Don't Slow Me Down'
We have a feeling that this was added before a copy even plopped through the Radio One letterbox.

Kanye West featuring T‑Pain — 'Good Life'
One of only two single-worthy tracks on 'Graduation'. The other has already been a Number One.

Mutya Buena — 'Just A Little Bit'
Yes. It's another Mutya single.

McFly — 'The Heart Never Lies'
The is the least exciting McFly single in the history of McFly.

Robyn — 'Handle Me'
Another big hit single. The remixes, as discussed yesterday, are quite possibly the most impress­ive of the year. (Cut to: Number 36 chart placing.)

Take That — 'Rule The World'
They might get an Oscar for this. There will need to be some real tat recorded between now and the Oscars to see that happen, but there you go.

Timbaland Presents One Republic — 'Apologize'

Amazing, although we're not sure that Timbaland is on the track very much. Shouldn't it be 'Apologise' for the UK market? It's all very confusing.

Unklejam — 'Stereo'
Hurrah. It's the third Unklejam single and if the upward trend of their previous Radio One-supported releases continues, this will be a Number One single. (NB: It won't be a Number One single.)

Justice — 'D.A.N.C.E'
To be honest we thought this had been and gone but we were obviously mistaken. It was amazing a few months ago and it is amazing now.
N Dubz — 'You Better Not Waste My Time'
It's the new Big Brovaz! But also a lot like Lady Sovereign…

Young Knives — 'Terra Firma'
Quite possibly the worst band on the planet.
So there are some songs you won't hear if you are sensible and, like us, listen to LBC.