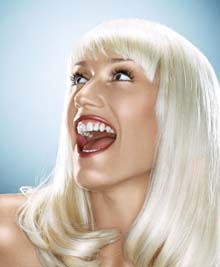 Right. This is all a bit last minute but that's what we like about Gwen Stefani – the thrill of it all. That and those brilliant dolls she did once.
Anyway, earlier in the week we gave you the chance to win tickets to go and see her live at Wembley Arena. We have chosen a winner and will be sending you the tickets very soon – although someone has told us that there is a postal strike on so a very grubby looking man on a motorbike may have to deliver your tickets. WHO KNOWS?
Anyway, on Saturday afternoon Gwen is filming a special thing for Ant & Dec's Saturday Night Takeaway show. Recently, Lisa Scott-Lee was on the show for thirty seconds dressed as an elf playing musical chairs with a load of other not very famous people and McFly. It was a glorious moment for all concerned.
Gwen will be per­form­ing in front of an audience of just 100 people at the LWT studios in central London and her label have given us 25 pairs of tickets for the filming. That's literally half the audience to be made up of Popjustice viewers. We dread to think what you'll get up to 'en masse' but if some past Popjustice parties are anything to go by they'd better put down some plastic sheeting.
We're not going to make you work for this, basically the first 25 people to email us at [email protected] will get tickets to see Gwen Stefani perform in a TV studio. Multiple tickets if you like — take some friends.
Someone's job probably depends on filling those seats. :(
Competition closed, thankyouverymuch…