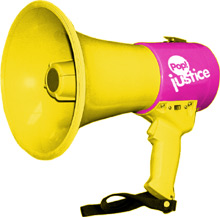 What's being discussed on the Popjustice forums?
Let's have a little look..
Has someone put a cat among the pigeons on the all-encom­passing Kylie thread?
Announces AndyK: "Kylie, Britney, Sugababes, GA, Spice women and their ilk are all Kiddy pop singers. No self respect­ing adult would have one of their records in their collection."

Are people being picky over choices of producers capable of re-igniting interest in the whole Sophie Ellis-Bextor 'thing'?
Splutters daddy_cool: "Hmmm, a Calvin Harris, Kissy Sell Out, Richard X, Frankmuzik, Tiga or a CSS remix/collaboration is in need too."

Are the rumours of an S Club 7 reunion going down well?
Snips Ronald Parisi: "It's not going to happen and I don't mind. I'm still wanting Tina's solo material."

Are illegal downloads of Girls Aloud tracks stopping them having Number One singles?
Trumpets Osiris: "I'm not sure early illegal downloads affect the official sales that much. 'About You Now' leaked almost 2 months ago and look where it's charting."
It's currently charting at Number One, that's where it's charting.
So there you go.