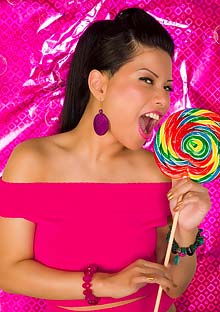 As you will already be aware, the future successes of pop records lies solely in hands of the clever people at Radio One. Here, accom­pan­ied this week by a series of little Jo Whiley heads, are the new songs which have been chosen to be futurely quite popular.


The Futureheads — 'The Beginning of the Twist'
Not happy making very little impact first time around, Futureheads are back and trying to make very little impact in 2008.


Young Knives — 'Up All Night'
Possibly the worst band in history — and that's a timeframe that includes the career of Gomez. The accom­pa­ny­ing picture is not of Young Knives FYI.


Delinquent featuring — KCat 'My Destiny'
A lot like Cascada – so quite good but essen­tially shit. There are also touches of Luciana's 'Yeah Yeah' in the track, so all bases are covered for a Top 50 smash.


Royworld — 'Man in the Machine'
Hurrah. Another melodic indie pop band. This sounds like The Hoosiers doing 'Video Killed The Radio Star'.


Utah Saints 'Something Good 08'
Still offi­cially one of the greatest songs of all time but the new remix doesn't have the good verse bits in it, or the 'U‑U-U' business.
In other news, Radio One have not stopped playing the David Jordan, Alphabeat or Taio Cruz singles, Jo Whiley is once again the ambas­sador for all new pop music by choosing the Ting Tings single as her Record Of The Week and the five minutes of Chris Moyles we listened to this morning in which the new dance version of 'Tiny Dancer' was 'decon­struc­ted' were the worst moments of an otherwise very enjoyable week.