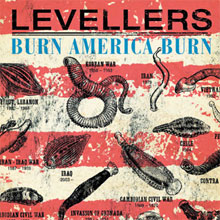 The new single from The Levellers is called 'Burn America Burn'. It is funny because it looks like 'Bum America Bum' when you write it down, but it is also unfunny because the 'listening exper­i­ence' is inter­galactic­ally bad. Let there be no doubt that this is an incred­ibly shoddy record.
The band are releasing 'Bum America Bum' on the day of the US election. HOLD ON TIGHT VIEWERS IN CASE THIS GUST OF POLITICAL POWER KNOCKS YOU RIGHT OFF YOUR FEET. You see the song is about cultural imper­i­al­ism and "the rot of American society" (according to the press release). Apparently: "lyrically the song high­lights these issues through the eyes of a Virginia Tech type gunman exploring why and how humanity could descent to such depths".
The Levellers have never been well known for the subtlety of their slo­gan­eer­ing and in typically crass and heavy handed fashion the single has arrived at Popjustice HQ with a book of pro­mo­tional matches. Matches which 'burn' just like America will (ie won't) when The Levellers release their new single.
But will The Levellers' political matches manage to burn the most American thing we managed to find in the office: some Hershey's chocolate?
httpv://www.youtube.com/watch?v=cnOx4v-sU8Y

America wins.