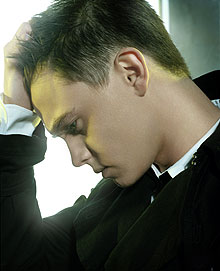 One of the defining — and most daring — albums of the modern pop era is *NSYNC's 'Celebrity', which in its more adven­tur­ous moments somehow found a way to take quite avant garde elec­tronic sounds, throw in some credible 'n' serious urban influ­ences, and repackage the whole thing as the ultimate mil­len­nial boyband proposition.
Of course the album was a relative failure and the band dis­in­teg­rated shortly after­wards but there's a lot of 'Celebrity' in 'Departure', the new album by Jesse McCartney.
After a couple of fairly mediocre albums 'Departure' repos­i­tions McCartney alongside Justin Timberlake and Chris Brown and stands as an exciting, bril­liantly produced landmark on the post-'Maneater' pop landscape.
This is one song from the album, called 'How Do You Sleep'.
[audio:jessesleep.mp3]
Jesse has song­writ­ing credits on a few tracks — he co-wrote Leona Lewis' 'Bleeding Love' — but most of the album is thrown over to a selection of con­trib­ut­ors including people like C 'Tricky' Stewart, The Clutch, Sean Garrett and JR Rotem. There will be questions from some about cred­ib­il­ity and author­ship and this sudden change in direction but most of the songs, like 'Rock You'…
[audio:jesserocku.mp3]
…are strong enough for none of that to matter. The album is flawed and it sometimes stops frus­trat­ingly short of really getting its tits out and waving them in your face but when it works well, like on this song 'My Baby'…
[audio:jessemybaby.mp3]
…we find ourselves thinking that if Michael Jackson was recording 'Off The Wall' in 2008 it would probably sound a bit like this. [CLARIFICATION: WE ARE NOT SAYING THIS ALBUM IS ACTUALLY AS GOOD AS 'OFF THE WALL'.] Other high­lights include the brilliant 'Runnin'' ("we became the best of friends, we went from half full to half empty" — amazing) and 'Make Up', which appears to have an accordion (!?) in it.
The track­list­ing:
1. Leavin'
2. It's Over
3. Rock You
4. How Do You Sleep
5. Into Ya
6. Make Up
7. My Baby
8. Told You So
9. Relapse
10. Runnin'
11. Freaky
12. Not Your Enemy
Very good.