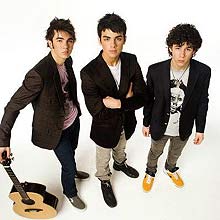 Remember The Jonas Brothers?
We wrote about them almost two years ago when they were covering lots of Busted songs but changing them to make them not as good.
Then we wrote about them again about a year ago when they covered 'Kids In America'.
Well, the good news is that they're coming to the UK and it's very exciting for everybody that this is happening. Here is the press release we have just been sent.
FOR IMMEDIATE RELEASE

UNIVERSAL MUSIC GROUP SET TO RELEASE
U.S. PHENOMENON JONAS BROTHERS IN EUROPE

LONDON/LOS ANGELES, March 3, 2008 – Universal Music Group (UMG) has licensed the Jonas Brothers' eponymous album from Disney Music Group's Hollywood Records for dis­tri­bu­tion in Europe. The agreement was announced today by Max Hole, Executive Vice President, Universal Music Group International.

The album, Jonas Brothers, will be released in Europe by Polydor Records. The label plans to issue the first single, "S.O.S" in late May, and follow with the album in June. To coincide with the single and album set-up, Jonas Brothers will be special guests on Avril Lavigne's European tour starting on May 26, and making a stop in London on June 4. Universal Music Group is also dis­trib­ut­ing Jonas Brothers in Canada and Latin America.

Max Hole commented, "We are thrilled to be working with the Jonas Brothers and the suc­cess­ful team at Disney's Hollywood Records. This band is one of our key pri­or­it­ies for Europe, and we are keen on creating the same phe­nomenon in the region that has taken hold in the U.S."

David Joseph, President, Universal Music Operations, commented: "If the reaction of the team at Polydor is anything to go by, this could be the biggest pop invasion to come over from the U.S. in many, many years."

Hollywood Records released Jonas Brothers in August of 2007 with an impress­ive No. 5 debut on the Billboard charts. By the U.S. holiday season, the album caught fire with several high-profile tele­vi­sion appear­ances, major Top 40 airplay, heavy online marketing, and a sold-out arena tour with Miley Cyrus. The album was certified Platinum by the Recording Industry Association of America (RIAA) for selling over 1 million units, and yielded over 3 million digital singles sales. In January, Jonas Brothers announced a multi-million dollar, two-year touring deal with Live Nation, one of the most prominent concert promoters in the U.S. Their tour sold out in record time at every venue, and has drawn critical acclaim for the band's catchy song-writing and energetic live per­form­ances. The album was the first release in the CDVU+ format, a 100% recyc­lable multi-media package.

‑ends-
So there you go. (You can listen to 'SOS' on their MySpace , it's a lot better than all that Busted nonsense from before might have suggested.)