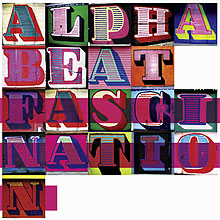 » Despite the fact that this song has been rattling around in a lot of Popjustice readers' iPods for the last couple of years, Alphabeat's 'Fascination' is actually only out properly in shops today.
» The video starts off cool then goes really gay.
» Remixes range from the sublime (Frankmusik, Linus Loves) to the ridicu­lous (Bimbo Jones) to the frankly quite rubbish (The Count & Sinden). You can listen to some of them (but not the rubbish one) at this page.
» Those of you confused about the song's lyrics will be relieved to find out that 'Fascination' is actually about… Erm, well you see the verses are about… Well, the chorus is a cel­eb­ra­tion of…
» We basically have no idea what this song is about despite having listened to it on 'various occasions'.
» The single is already a Top 24 chart hit on downloads alone.
» We hate the phrase 'on downloads alone'. Can somebody invent a new phrase for this please? Something like 'ahead of physical release'. Please?
» If you've been wondering what 'Fascination' would sound like mashed up with The Futureheads' version of 'Hounds Of Love', wonder no more…
[audio:alphaboot.mp3]
» We were told by SOMEONE that they were going to make fridge magnets out of the Alphabeat letters but then that didn't happen. It is almost as if someone who had recently taken over EMI walked into the office just as the 'Amazing Alphabeat Fridge Magnets And How They Can Get Us To Number One' Powerpoint present­a­tion was in full flow and was prompted to have a frank dis­cus­sion with those present about how it was This Sort Of Thing which wasn't helping with the old 'trying to make some money' business.
» This is why EMI is doomed. Stupid pro­mo­tional items rule.
» Anyway 'Fascination' is amazing.