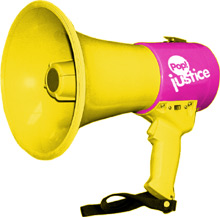 Madonna's new single '4 Minutes To Save The World' is a rather enormous Timbaland pro­duc­tion featuring a lot of trumpets and Justin Timberlake.
As might be expected, a low quality leak of '4 Minutes To Save The World' with a French DJ yelling over the top has been thor­oughly discussed and dissected in the Popjustice forums.
So what seems to be the general opinion?

Froths Diamond Doggie Bag: "I was won over within about five seconds — that intro is awesome! I think Madonna and Justin's voices work together sur­pris­ingly well. Vocally, this is sounding like one of JT's best songs."
Splutters sushimuffin: "I was mod­er­ately ambi­val­ent about this song earlier today when I first heard it. And yet, somehow, I love it now. A bit bombastic, but a great song, and JT is fantastic in it."
Adds Pravavc: "Nice song. Not earth­shat­ter­ing — but nice. It's been ages since I've said that about a Madonna track (even though she is my favorite female artist of all time). Not a classic but def­in­itely current. I just wish she'd sung the entire thing. I don't really get what Justin Timberlake con­trib­utes to this effort. While I am not a fan of Timbaland, I think his pro­duc­tion on this track is top notch."
Explains Carl: "I love it. Not so much Madonna, but the track itself. It's much better than I expected, although I think that without Justin the song would be mediocre — I can't imagine it as a Madonna solo."
Expresses andifeel: "Killer hook, loving the 80s style chorus, you call clearly tell it's Timberland but it is 'grander' than anything else he's done of late."
Gushes someboy0716: "Absolutely amazing; Madonna, as expected, has elevated Timbaland and Timberlake to perhaps their best moment yet (maybe not Timbaland, but certainly Justin). I don't want to hear any, 'there's too much Justin,' even if Madonna was featured for ten seconds, it would be HER song. Really, it's fantastic, I hope she gets a Billboard Number 1."
But it's not all positive (if you consider the above opinions positive)…
Dimisses Orbit: "Way too much Timberlake, she must really want that US radio play."
Agrees Samiart: "She wants to crack USA. It might work it might not, but who cares I think it will be a hit every­where else. She has sold out for doing this but from what I hear there are some fabulous Madonna pop songs on the album so I'm happy."
Declares Christopher (the original): I have abso­lutely NO OPINION on Madonna's con­tri­bu­tions to this track — which speaks volumes."

Blasts Passionoia: "All people seem inter­ested in now when it comes to Madonna is who's she's working with, it's what defines her nowadays which of course is important but when it's the ONLY dis­cus­sion point and the ONLY opinion you have on a popstar then that's not good."
Declares Special K: "She is aware she hasn't had a hit in the states for years and that's what the woman wants! She wants a number 1 Billboard smash and she's going all out to make sure she gets it!"
Notes Mynl: "Exactly how many times is this woman gonna rhyme 'waiting' with 'hes­it­at­ing'?"
We'd estimate a 60/40 split against 'Four Minutes To Save The World'. What would Leona Lewis do?