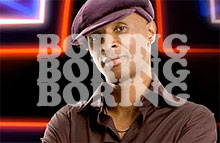 Well somewhat pre­dict­ably the 'Eurovision: Your Fault' vote went a bit wonky and we're sending Andy Abraham to represent the UK at Eurovision.
It's a nice turn­around for a man who not so long ago was unce­re­mo­ni­ously dropped after a platinum-selling debut album but it is a shame the song is so boring.
So boring that it won't be fun watching it fail miserably; so boring it won't be fun cel­eb­rat­ing its romp to victory. However it performs it will be the Eurovisionular embod­i­ment of the internet's most annoying word: 'meh'.
Here is the song in question. It may do well at Eurovision. It may not do well at Eurovision. We're going to have severe dif­fi­culty giving two shits either way.
httpv://www.youtube.com/watch?v=rWnQ_81n3YE

WAKE UP AT THE BACK!