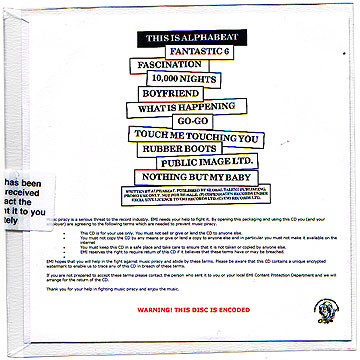 Answer: literally quite good. Their album's been out 'back home' for a while now so they've given the whole thing a spring clean, booting out some old tracks, tarting up some others and intro­du­cing some new ones.
'Touch Me Touching You': is a frenetic elec­tronic sort of thing.
'Go-Go': sees Alphabeat chan­nel­ing Chic with a big "I can't stand up, I can't get down, down, get down go go" chorus. If you like Alcazar this will be 'up your street'.
'Rubber Boots': is a slow one with loads of atmo­sphere nicked off Magic FM classics like 'I Want To Know What Love Is' and has a chorus of "go put your rubber boots on, your rubber boots on, your rubber boots on". The second chorus replaces rubber boots with mack­in­tosh. WHAT THIS IS ABOUT IS A MYSTERY.
'Boyfriend': has been competely reswizzled from the Danish version and is now faster and synthy, thus 'danceable'.
'Public Imagine Ltd': is a rather odd PiL track which Alphabeat have made sound a bit like 'Virginia Plain'.
That's: your lot.