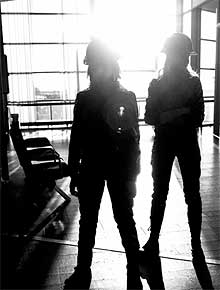 What, you might be wondering, has happened to Swedish pop warblers West End Girls?
Well, they've been making their second album and, as a departure for the band, it won't all be Pet Shop Boys hits.
Here is the news:
» The new single is 'What Have I Done To Deserve This?'.
»
The girls do not sing the song to each other. They are joined on vocals by a special guest called Magnus Carlson. He is in a band called Weeping Willows. This is appar­ently going to be big news in Sweden.
»
The single will be out in February or March, followed by…
THIS IS WHERE IT GETS INTERESTING
…two singles, both written by the Pet Shop Boys, before the album drops.
» One of the songs is 'Little Black Dress', which sounds "like a mixture between Pet Shop Boys, West End Girls and Depeche Mode".
» The album will be called 'Shoplifters'. Do you see what they have done there.
» There is some other stuff about the album, too, involving songs con­trib­uted by other people, but we have been told to keep it secret. :(
The Girls' version of 'What Have I Done To Deserve This?' won't dis­ap­point fans of the first album, and there are some great melodic tricks added to the vocals which make it a bit different from the original song while still being the same. All thanks to the magic of pop. We'll play you a clip in a week or so if you like.