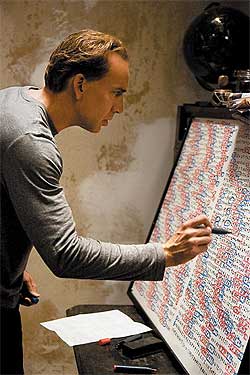 The appear­ance yesterday of another one of those odd virals
has revived interest in the campaign for whatever it is.
As you'll know if you've been following the whole thing, the videos have all had titles like "9.20.19.13.5.723378".
Naturally, people have been trying to decode the numbers.
One of our favourite efforts is from someone who registered on the Popjustice forums espe­cially to post this.
title of the first video: Prelude 699130082.451322
6+9+9+1+3+0+0+8+2 = 38 || 4+5+1+3+2+2 = 17
now: A — 1, B — 2, C — 3, D — 4, etc…
38: CH (3 — C, 8 — H)
17: AG (1 — A, 7 — G)
it's CHristina AGuilera.
It's a con­vin­cing argument, and Christina's publicist never did deny Aggo's involve­ment. We can't help but be worried that this might all end in dis­ap­point­ment when it turns out to be some crap new Warp signing, or a Government drugs campaign.