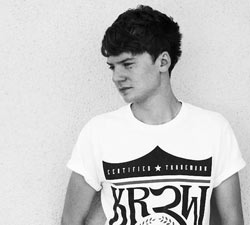 We have just updated the Popjustice Almighty. Here is who is on it and why.
1.
Diana Vickers
Make sure you keep an eye on Vicko tomorrow because some new music will magically appear onto the internet. The tune in question is one of the songs we talked about a few months ago and it is very good indeed.
2.
Donkeyboy
They have been working with Diana Vickers (SEE ABOVE) on above average tuneage. They have been working on their own above average tuneage. They have above average tuneage cascading out of every orifice. We love them.

3. Jacques Lu Cont
Full proper album next year. Amazing.

4.Conor Maynard
(pictured)
Conor has been knocking around online forever (and has a Facebook Like count to prove it) but in a rare instance of a major label devel­op­ing a teen artist and not kicking the living shit out of what once made them inter­est­ing EMI have spent the last year getting things just right. Bass-heavy and sort-of-brilliant debut single 'Can't Say No' (lyric summary: he's quite the catch, girls are reas­on­ably fond of him, etc etc etc) is out next March and his YouTube channel is proof of what they used to call X Factor when it still meant something. If the cha­ris­matic video clips remind you of the first time you saw Jessie J you're not a million miles off the scent: he's managed by the same team and, like Jessie, his debut single just so happens to have been produced by The Invisible Men. And here he is singing 'Price Tag'. (He's also been working with Sandy Vee, Jermaine Dupri and Midi Mafia.) This could end up going very right or very not-so-right but it's all off to a pretty good start.

5. Little Mix
Don't fuck this up Syco. DO NOT FUCK THIS UP.

666. The Voice
They went for Mateyboy From The Script instead of Will Young. We could go on. Actually we would quite like to go on. Maybe we will go on sep­ar­ately. As things currently stand though, this is all massively sadface.