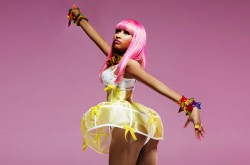 Nicki Minaj has been saying some things about her forth­com­ing second album 'Pink Friday: Roman Reloaded'.
Talking to Tim 'BOOM' Westwood on his 1Xtra radio show, the 'Massive Attack' hitmaker said the new album — which was previewed with 'Roman In Moscow' last week — would see the return of the "crazy Nicki" everyone loved from her early mixtapes.
"I really didn't have fun recording 'Pink Friday', but I'm having fun recording 'Roman Reloaded'. I'm really letting loose and I'm not over-thinking things anymore and I'm just being in the moment," she said.
She also had this to say about 'Roman' (this kind of thing might get old soon): "He just had so much to say and he just wants to play and snatch wigs and snatch weaves and snatch bald spots and that's what he's going to do."