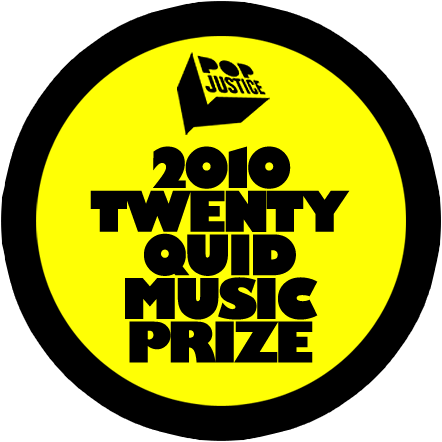 The stage is set. The iTunes playlist of twelve amazing British pop tunes has been syn­chron­ised with a portable media playing device. The invited judges are choosing what to wear and, more import­antly, how to get to the venue if the tubes are still in a state of being tits up by the time this evening comes around. Whatever mode of transport is chosen by 11pm tonight the best British pop single of the last twelve months will have been decided and a crisp twenty pound note will be on its way to the winner.
Those nom­in­a­tions in full:
'Bad Boys' by Alexandra Burke
'One Touch' by Mini Viva
'Left My Heart In Tokyo' by Mini Viva
'Bittersweet' by Sophie Ellis-Bextor
'I Won't Kneel' by Groove Armada
'Kickstarts' by Example
'Wonderful Life' by Hurts
'Real Late Starter' by Nerina Pallot
'Never Leave You' by Tinchy feat Amelle
'I Wish' by Mini Viva
'Once' by Diana Vickers
'I Am Not A Robot' by Marina & The Diamonds
Also tonight, judges will choose the winner of the 2010 Popjustice Twenty Quid Invoice Prize (for the worst British pop single of the last twelve months — the winner of that one has to cough up a twenty).
With tragic inev­it­ab­il­ity Twitter WILL be involved — @Popjustice's followers will be consulted during the evening and their votes may end up settling any arguments in the room. Keep watching the #twentyquid hashtag.
More info over at the Twenty Quid Music Prize minisite at http://twentyquid.popjustice.com.