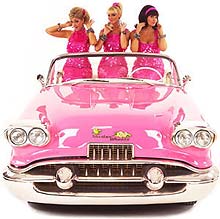 As you know, Stock Aitken & Waterman got back together a while ago in order to make pop music again.
A lot of people got fairly excited about this because it seemed that with the right advice and the right artist, the trio could have put the last few years of terrible, ill-advised Fast Food Rockers-style novelty embar­rass­ments to one side and could instead have been something of a force to be reckoned with, even in 2007.
Instead, they have taken on 'The Sheilas' — the women from the Sheila's Wheels car insurance advertisements.
The song is called '(I'm So) Happy Happy (You're Mine)'.
There is, as yet, no record label or release date.
For what it is worth we are 'reserving judgement'.