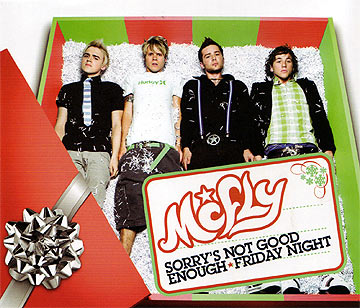 Look at that single sleeve! It's amazing! Our favourite bit is Harry's 'Taking Back Sunday never have to do this' expression.
As well as the title tracks (which — marketing genius! — have nothing to do with Christmas) the CD single also includes a — let's be honest here — slightly per­func­tory run through 'Rockin' Robin', as well as a live track…
AND!
AND SOME POSTCARDS! The postcards feature McFly in a variety of festive scenarios. Our favourite is this one featuring Danny — who after several months now seems to have grown into his Kooks haircut — being chased by a giant cracker.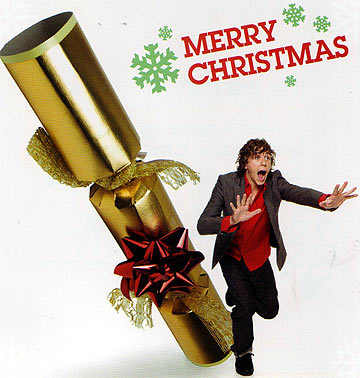 And that's just CD1 of the single — there's probably a whole other world of bonus crap on CD2.
Taking into account all of the above it seems a bit sad that within two years a 'single release' will mean no more than a solitary MP3 track chucked onto iTunes with no postcards, sleeve artwork or bonus tracks.