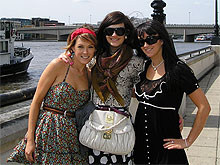 Pop blog Dirrrty Pop went to see The Pipettes on Thursday night. Here are the key points:
» First gig by the new lineup.
» Eight new songs suggest "the best album of 2008 so far".
» New songs include 'Stop The Music', 'To No-One', 'Captain Rhythm' and 'Boo Shuffle'.
» 'Boo Shuffle' has a dance routine.
» Etc etc.
The review's general gist is that the new lineup works, the new songs are great, and that there's no need to panic. Read the full review here.