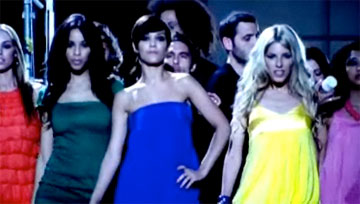 The Saturdays' video for 'If This Is Love' is now online. Click here to watch it on MSN.
The concept is that the girls are shooting a video — it's a wheel within a wheel, viewers — in a shop window. The shop is called The Saturdays. The audience scenes involve crowd noise, and it's a solid gold pop fact that everything sounds at least ten times better when you chuck some crowd noise on top. Sometimes, when it gets to about half past four in the afternoon, we put crowd noise on in the office just to get things moving.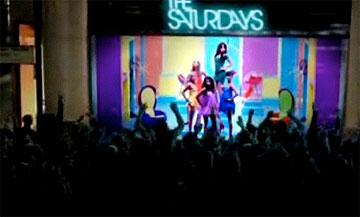 As well as being a nice video featuring some pretty ladies in colourful frocks, it's a brilliant piece of sug­gest­ive film making which clearly signposts several important factors for the viewer.

1. They are shooting a pop video and people are fussing over them. Famous popstars get to shoot videos — so this means The Saturdays are famous popstars. They are not hapless wannabes strug­gling to be seen and heard — they've already made it. If the video crew are making a fuss over them, you should too.

2. There are fans outside the shop/performance — this band already has fans. Why not join them? The fans are teenage girls, which means that teenage girls like The Saturdays. You're a teenage girl? You'll like The Saturdays!

3. The band are appearing in the window of a high street, Top Shop-style store. Despite looking great the band are access­ible and so is their style. You can dress like The Saturdays and be part of their gang.

4. An inof­fens­ively handsome boy gives Frankie his number. If you're part of The Saturdays' gang this might happen to you!

5. The band sign auto­graphs after the photo shoot — in case you've missed this point during the rest of the video it's because rather than being a brand new girlgroup they are in fact ALREADY FAMOUS. But the fact that they are signing auto­graphs shows that they are not so famous that they refuse to sign auto­graphs — if you bump into them in the street they'll stop and chat with you. They're your friends!
V good.