Brace yourselves: Girls Aloud have covered The Go-Go's' 'Our Lips Are Sealed' (which sounds like this…
httpv://www.youtube.com/watch?v=MqkNbUTShLs

…and is clearly amazing).
But don't get excited because it was ages ago.
The events leading up to this discovery are fairly long-winded but basically we 'flowed' the song on that mFlow thing, then someone bought it off mFlow as a result which meant we earned a small fee, so we then posted on Twitter that a Go-Go's purchase had made us 17p, and then Fascination (Girls Aloud's record label) tweeted us and asked which Go-Go's song we were talking about, and we said 'Our Lips Are Sealed' adding that it would have been a great Girls Aloud cover about six years ago (THIS IS THE MOST BORING PARAGRAPH ON THE HISTORY OF THE INTERNET) and then Fascination replied with this.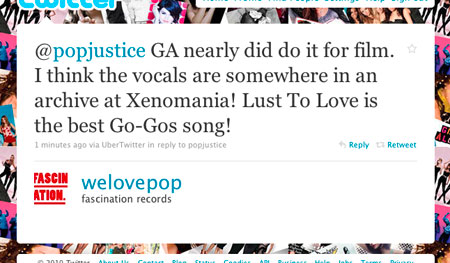 'Lust To Love' is indeed a good song.
Illustrating the fact that in pop vague cover version ideas never really go away, another good Go-Go's song is 'We Got The Beat', which was covered by The Banned Of St Trinian's (ie Xenomania — we think Florrie of 'today's Song Of The Day' fame might be on drums) for the Fascination-released 'St Trinian's 2' soundtrack last year.
httpv://www.youtube.com/watch?v=pZolmQZulyY

So there you go.