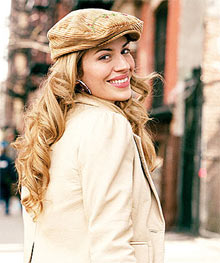 It was probably a good thing that everyone ignored the first Lola single, '(No Strings) Let's Have Sex'. It was diverting but essen­tially rubbish.
Fortunately her new song 'I Can't Take It' is quite a lot better and it is on her MySpace page.
It sounds a bit like something the Pussycat Dolls would record if they were in the market for anything remotely subtle and is produced by Scott Storch, who we would have once said probably does not come cheap, although after the Paris Hilton album sales debacle he will probably work with anyone who asks nicely and throws in a packet of Quavers.
'When It Kicks In', also over on Lola's MySpace, is worth a listen too…