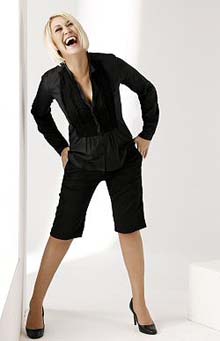 :: Jo O Meara is an early favourite to win Celebrity Big Brother, but this will not last if she keeps throwing great big hissy fits every time someone mentions S Club 7.
:: Do not expect the charts to make any sort of sense this weekend. Download Lunacy is upon us, so expect the Top Ten to be full of Snow Patrol songs and whatever was played over Pauline's funeral at Christmas. (NB: Only about three weird songs are likely to chart which is a bit of a disappointment.)
:: However, downloads aren't making everyone happy, Cliff Richard reckons the only reason he did not beat Leona to the Christmas Number One is because his fans are too old and infirm to know how to download. Perhaps if they were genet­ic­ally pro­grammed to queue outside PC World rather than the Post Office this would not be a problem.
:: Wyclef Jean has been made a 'roving ambas­sador' for Haiti, which is a part of the world popular with zombies.
:: Courtney Love has promised that she will have no more plastic surgery in 2007. She is hoping to have lots of sex instead, so expect bits to be falling off all over the place.
:: Whitney Houston is selling off loads of old stuff that she appar­ently doesn't need any more – like all her awards and all her clothes.
:: Justin still has not split up with his old lady girl­friend, Cameron Diaz. Hold on in there Britney etc.
:: Corinne Bailey Rae is planning something 'spec­tac­u­lar' for this year's Brit Awards. Anyone hoping for anything other than her and an acoustic guitar might be in for a dis­ap­point­ment because we can't picture her flying around on ropes or gunning down Lisa Stansfield and 'Jazzie B'…
:: Oh, and 'H' from Steps is a great big gay. Lock up your dads et-cetera.
Have a nice weekend,
PJ x