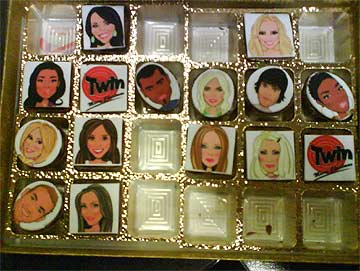 This is a Christmas gift sent to clients of A Certain London Taxi Firm. It is a box of chocol­ates and on each chocolate is THE FACE OF A CELEBRITY WHO USES LOTS OF TAXIS.
This is obviously amazing.
Note Kimberley and Nadine on the top row, Jamelia and Daniel Bedingfield on the second, Bananarama on the third and two of Liberty X on the fourth.
Click here for the who's who guide…