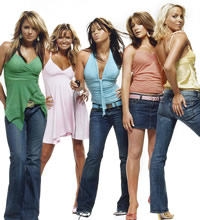 :: Nadine Girls Aloud broke up with her telly boyfriend. Blub etc.
:: Beyonce knocked James Morrison over.
:: Mirror.co.uk readers voted Kimberley their least favourite Girls Aloud.
:: George Michael is going to do a concert for nurses.
:: That woman out of Texas almost had a fight with Paris Hilton, and Lily Allen almost nearly caught fire, although the two are NOT related.
:: No one is buying the All Saints album, they are all too busy buying the album by the binman from last year's X‑Factor.
:: The Michael Jackson per­form­ance thing wasn't as good as he thought it was going to be. Still, Keisha Sugababe enjoyed it.
:: In related news, Monday's mailout includes the chance to win some of Keisha Sugababe's clothes and an amazing (and ludicrous) boyband compilation.
Have a good weekend.