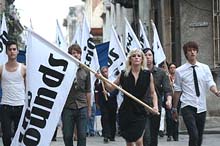 The Sounds are releasing an album in the UK in March called 'Dying To Say This To You'.
It is amazing and so are the band, for the following reasons:
1. Lead singer Maja Ivarsson is both brilliant and terrifying.
2. She is also very brave. Moments of par­tic­u­lar bravery include the 'Painted By Numbers' video. ("You're not going out dressed like that young lady" / "Oh yes I bloody well am" etc.) You can see her pants.
2. If the album is anything like the 'Tony The Beat' EP then it will be a amazing mix of electro and rock. Not unlike Shiny Toy Guns in certain respects but, at the same time, a com­pletely different thing too.
3. The above might explain The Sounds sup­port­ing STG on their recent American tour. Or it might just have been a coincidence.
4. The video to 'Tony The Beat' has the best use of subtitles in a pop video of all time. And topless ladies jiggling their boobs at the end.
5. That song also has a proper rave bit in it.
6. Most of the band are quite fit.
7. They are offically the first band in history to 'pimp' their MySpace without getting com­pletely carried away.
8. They have also had over a million hits on their page for simply touring with Panic! At The Disco and doing a song with All American Rejects. Do not under­es­tim­ate the power of emo.
9. Even the Fall Out Boy remix of the amazing 'Queen Of Apology' is not dreadful.
10. As you can see from the picture above, the band know a thing or two about how to conduct them­selves in pop videos. Let's have a big look at the same picture, shall we?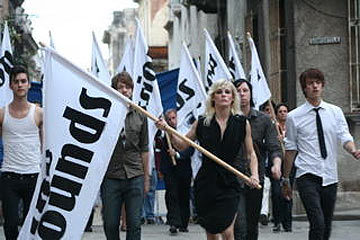 Lovely.
NB. You can buy a The Sounds handbag right
here
. They can't deliver before Christmas though, so don't get any last minute ideas.