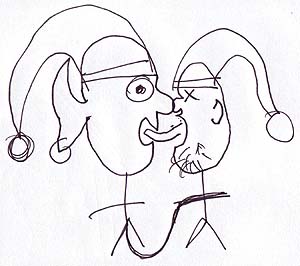 Last week we gave Lil' Chris some paper and pens and asked him to draw some festive pictures. He drew us an emo kid having to eat turkey on Christmas day, a family dis­cov­er­ing they have been burgled on Christmas morning, Jesus being born, and a selection of other festive treats.
Of the two elves kissing picture above, Chris notes:
"Hehehehehâ?¦ This one has a big hat with an earring. He's tonguing the other boy elf. These are homo­sexual elves. All elves are gay."
Click here to see all twelve pictures — as well as Chris' running com­ment­ary on what he is drawing and why.