So in June this happened…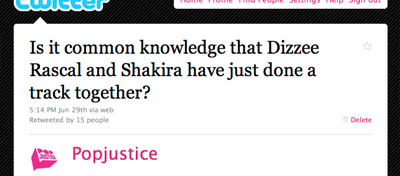 …and a couple of weeks ago Shakira shot the video in Barcelona. The Sun had some pictures from that but the inter­est­ing thing is this fan video of the shoot in which you can hear the song. It is literally a Shakira song with some Dizzee Rascal in it.

[youtube]yZQ2zzJ1Iys[/youtube] You might be wondering why we have not really mentioned this before now (and why now is the right time to mention it) and there is no clear answer we can give you but we thought it was sort of 'of interest' so there you go.