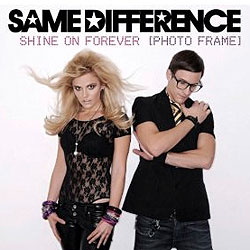 » 'Shine On Forever (Photo Frame)' is the new Same Difference single and it is out this week.

» Same Difference, you may recall, were respons­ible for one of the most demented X Factor per­form­ances of all time.

» Remember, at the time of that per­form­ance both members were legally entitled to vote.

»
The brackets in the title of 'Shine On Forever (Photo Frame)' work because someone might remember the "photo frame" bit of the lyrics but not the "shine on forever" bit, so if they are browsing in iTunes on a Saturday afternoon and they see 'Shine On Forever (Photo Frame)' on the shelf they will know it is the song they have heard. This also works for people who remember the "shine on forever" bit but not the "photo frame" bit.

» The band have had a makeover for this release. Same Difference are now SEXUAL. There is a bit in the second verse of the video (which appears to have been shot in the Lightbox bit of alarming London dis­cotheque Fire) in which Sean is sort of grinding with a lady up against a wall.

[youtube]s59AwI7xGEE[/youtube] » "I had never had to act like this before," notes Sean on the Same Difference website, "but after about 2 minutes it became quite natural and let's face it, who wouldn't want to dance with a beautiful girl!" Well quite. Unfortunately, despite his new found SEXUALNESS, Sean is still the sort of person who pulls off dance moves like this.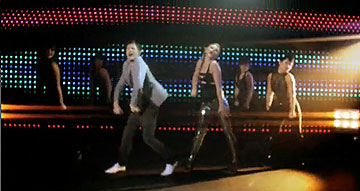 Not sexual.
» There are various mixes upon iTunes but the Matt Pop one is the best of the lot.
» And there we have it.