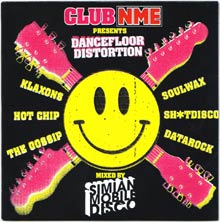 Although it is not a cassette featuring demo record­ings by Slowdive and Birdland, the cov­er­mount on this week's NME is abso­lutely amazing.
It is called 'Dancefloor Distortion' and is all ravey. It features some VERY GOOD REMIXES and costs just £4.99 or however much NME is these days. It certainly puts the E in NME!!!111!!!!!
The pink and yellow colour scheme is a bit dodgy, unfortunately.