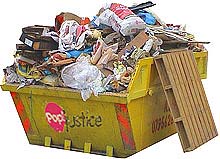 What has been going on in
the world of news?
» Dannii
Minogue and Sharon
Osbourne will return as judges on The X Factor, no doubt prompting much hilarious throwing of water. (The
Sun)
» In a Sun exclusive, Rolling Stone Keith
Richards says that he likes to get stoned. (The Sun)
» Rapper TI
has been waving guns around a lot. (BBC)
» Will Young
will be per­form­ing at T In The Park. (NME)
» One pop critic has 'had it up to here' with Madonna. (The Guardian)
» Rihanna
was among the stars at the Nickelodeon Kids' Choice Awards. (The Sun)
» Charlotte
Church has self­lessly waited until the country's urgent need for organ
donors has touched her own life before using her public profile to
raise awareness. (BBC)
» Estelle
and Duffy
are both still Number One. (NME)

» Surprisingly, Amy
Winehouse's next album may contain lyrics which are not
100% happy-clappy-everything's‑brilliant in nature. (The Sun)
Blimey.