Right, so a few of you have been in touch about this whole Muffingate fiasco. You say we're too quick to judge; that even compact discs were initially resisted by many music fans.
So we've had another look at this potential new format and we're still not convinced.
First off, this new format is not backwards com­pat­ible and will simply not play in existing hardware.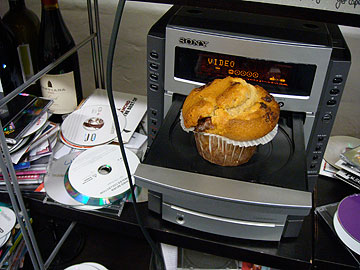 Shortly after this picture was taken we pressed 'play' on the CD player and the shelf slid in, sending the muffin tumbling onto the floor. We've all seen the famous TV report with a Tomorrow's World presenter putting jam onto a muffin and having it with a nice up of tea but the reality is that muffins simply aren't as robust as they seem. This is a huge problem and could result in a number of lawsuits.
We're unable to play the muffin in a CD player, so perhaps we should just store it somewhere and come back later.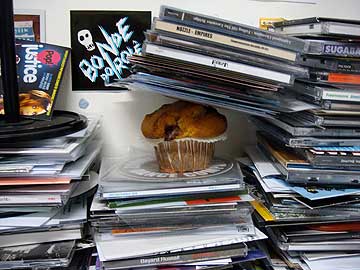 Another problem: muffins do not fit in tra­di­tional CD storage systems, like the intric­ately alpha­beti­cised one you see above.
Let's go back to trying to listen to the music — this time we'll import the muffin into iTunes and see if we can convert it to a more con­veni­ent format.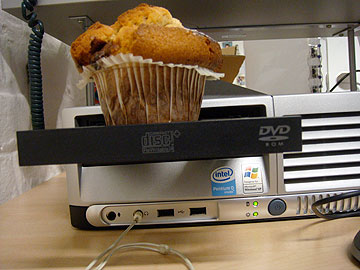 Again, we have a problem. Even on a PC the muffin simply can't be read and, if you do manage to get it inside the computer, the muffin will leave tiny 'crumbs' inside your hard drive, which could com­pletely wreck your computer. Was nothing learned from SonyBMG's con­tro­ver­sial copy pro­tec­tion software.
We conclude that muffins will never replace CDs for true music fans.