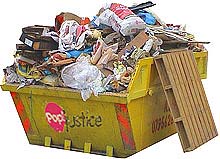 What has been going on in
the world of news?
» Madonna
is a fan of Jamelia.
(The Sun)
» MySpace
have their own music-flogging service aimed at empower­ing millions of
musicians ('making a load of money for MySpace'). (Yahoo)
» As time goes by, with fairly pleasant inter­views like this
one and with truly heinous 'acts' like Scouting For Girls in our midst,
you can't help but feel that The
Kooks really aren't quite as bad as they seemed a few
years ago. (The Guardian)
» Something about the Sugababes.
(The Sun)
» Mariah Carey
holding some balloons has sent The Sun's Gordon Smart into
a frenzy — the joke being that balloons look a bit like Mariah's
enormous breasts. (The Sun)
» Calvin Harris
has reportedly lost his entire new album at Heathrow. It might seem
like bad news but surely because it's only dance music it will only
take a few minutes to plug the computer in press a few buttons. Not
like with real music. Come on Calvin, stop moaning etc etc. (Undercover)
» Adele's
ex-boyfriend is now going out with someone who looks like a
twelve-year-old member of the Chemical Brothers Juniors. (The Sun)
» Actually, Chemical Brothers Juniors is a brilliant idea.
» FINALLY! Sergey
Prokofiev's diaries are published next week. Expect all
the gossip on Robbie, his feud with the Spice Girls and what REALLY
happened backstage at the Brits. (The Independent)
Blimey.