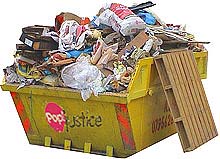 What has been going on in
the world of news?
» In an unusual twist, Estelle
talks about her pal Kanye West in an interview. (The Telegraph)
» That thing about Tesco
wanting to make more money by paying less for things was untrue,
appar­ently. (Billboard)
» Someone who was a bigwig at Google is now a
bigwig at EMI,
no doubt encour­aged by the label's 'I'm feeling lucky' approach to
A&R. (Yahoo)
» Mariah Carey
has overtaken Elvis in terms of US Number One singles, and
Madonna has
overtaken Elvis regarding some other sort of record, which will throw
another spanner in the works of the endless 'who's biggest/who's sold
most' arguments enjoyed by fans of Mariah, Madonna and Celine Dion. (Hip Hop Elements)
» Headlines such as 'Return Of The Mac', 'Mac. Back! BACK!'
and a million others have been cruelly ignored in favour of 'Fleetwood Mac's
Back'. (The Guardian)
» The B‑52s
talk about their art in an interview accom­pan­ied by a picture of the
Scissor Sisters in twenty years. (The Telegraph)
» Supergrass
are very upset that EMI got rid of music 'exec' Tony Wadsworth. Gaz
from the band reckons EMI needs some Tonys around because "he wasn't
too biz about the whole thing". 'Biz' in the sense of 'looking at a
band who are totally past it and wondering whether EMI might be better
off not spunking money in their direction', we presume. (Gigwise)
» Jay‑Z
is the latest artist to be in talks with Live Nation. Live Nation are
def­in­itely onto a winner with this scheme — what with Madonna, U2 and
now Jay Z, they're really picking up artists whose best work is
def­in­itely ahead of them. (New York Times)
Blimey.