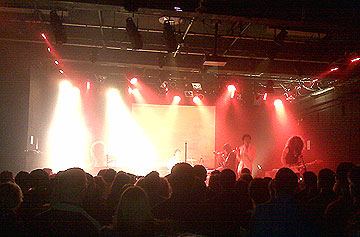 It's been a while since we sent our pro­fes­sional lensman off on an assign­ment but last night he came up trumps with this shot of David Jordan. It's a piece of rock pho­to­graphy which magically captures the real excite­ment, energy and raw emotion of standing at the back of a room chatting loudly while someone sings some songs.
At times it was a bit like being held captive in Jo Whiley's Live Lounge — he covered Queen's 'Tie Your Mother Down', The Police's 'Roxanne' (THE LIGHTS TURNED RED FOR THAT ONE) and Girls Aloud's 'Call The Shots' — but you've got to take your hat off to a guy who, one hit into his career, bangs around the stage and interacts with his audience like he's per­form­ing a three hour greatest hits set at Wembley Stadium. Next single 'Move On' was 'a winner' FYI.
The support act, Jack McManus, took an odd approach to his own per­form­ance: songs one, three and five were rubbish, while songs two, four and six were quite good. This on-off approach to the art of setlist man­age­ment may well be the future of live music, par­tic­u­larly now that the smoking ban is in full effect, and we will keep a close eye on concerts as 2008 plays out to see if it catches on.