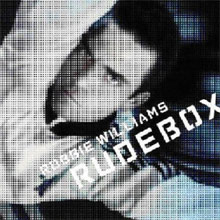 After we did that graph the other week we never got around to actually reviewing the Robbie album, and now it's leaked so there isn't very much point.
There are lots of things we were wanting to say about it, but here are the key points.
1.
It is the best album of Robbie's career.
2. It is a very clever album.
3. It is also a very funny album.
4. It is also a very touching album.
5. It is all a bit of a relief really.
Here's what some of the punters on the Popjustice mes­sage­board have been saying about it over the last 24 hours.
"Never been the biggest Robbie fan, but for the first time ever I found one his songs instantly attractive."
"I really am shocked at how good it is."
"It's clear already that it contains some brilliant pop songs."
"This is easily the album of the year and BY FAR the best of Robbie's career."
"I listened to the whole album twice today and think it's the best album he's made in years."
"A few songs take a couple of listens, but this is fresh, catchy, different, witty, sad and very funny and def­in­itely the best album Robbie has ever done. I too don't know why they decided to release 'Rudebox' as the first track — it is the worst single on there."
"I'm pleas­antly surprised at this album."
"It's one of the best albums I've heard this year."
"I must admit after Intensive Care, I was well and truly done with Robbie Williams. Then he released Rudebox, which I loved… And now I've just had a listen to the new album, and well, I'm shocked at how good it is. To go from the naffness that was Advertising Space and Sin Sin Sin, and pull this out of the cupboard, is quite amazing. One of the CDs of the year."
"This album is an absolute mas­ter­piece. The 80s and The 90s in par­tic­u­lar is fucking outstanding."
You can't argue with pop­ular­ity. Well, you could…
"My ears have never heard anything as shit as this album."
…but you'd be wrong.