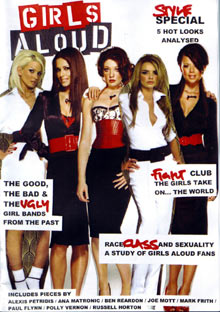 We received a quite inter­est­ing fanzine in the post last week.
It is about Girls Aloud.
Fanzines have always been a great breeding ground for new talent and we think that some of the amateurs who've con­trib­uted to this zine have bright futures ahead of them.
We think that the con­tri­bu­tions by promising writers such as Polly Vernon, Joe Mott, Mark Frith and Paul Flynn are par­tic­u­larly good.
Perhaps if anyone reading this works at a magazine they could find one of these writers a week's work exper­i­ence or something.
We have scanned in one of the pages for you to read — click here to read 'The Greatest Rock & Roll Band In The World' by Alexis Petridis.